Oh Grow Up Article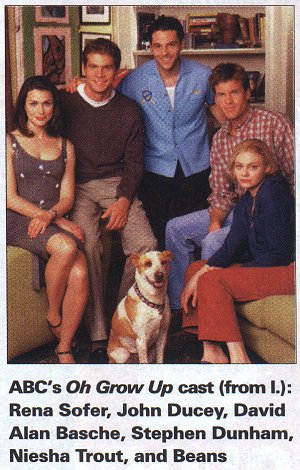 MediaWeek Magazine May 24, 1999
Fountains of Youth
Nets' fall schedules brim with shows targeted at younger viewers
Most of the broadcast networks will be aggressively pursuing younger viewers next season, with highly structured fall schedules that in many instances target particular viewer demos on specific nights. All of the nets, except NBC and CBS, introduced new programming slates last week that cater to younger viewers than last season. And in another break with the past, NBC is expected to face a strong challenge on Thursday nights, as all of the Peacock's competitors introduced shows that could erode the net's long dominance that night.
ABC will premiere six programs, its fewest to open a season in ten years. Three are dramas and three are comedies, boosting ABC's sitcom total to 13. "We had a lot of comedies that worked well this season, and it made sense to bring them back," ABC Entertainment president Jamie Tarses said.
ABC is flipping its Wednesday hit Dharma & Greg to Tuesdays and shifting Tuesday freshman hit The Hughleys to lead off Fridays at 8. Tarses said the goal is to make Friday more of a family viewing night than just a night for kids. The Dharma move was made to shore up Tuesdays, following the departure of Home Improvement. The Drew Carey Show will still anchor ABC's Wednesdays at 9, followed by Oh Grow Up, a new sitcom that "explores and perpetuates the fantasy of men" and is a "perfect companion to Drew," Tarses said.
--John Consoli

---