Oh Grow Up Article
Entertainment Weekly, October 1, 1999
REMOTE PATROL
by Bruce Fretts
Heather Locklear joins a pack of Melrose vixens finding a new place in comedy
It all started back in 1997 when Courtney Throne-Smith traded the straight-faced bitch slapping of Melrose Place for the slapstick hair pulling of Ally McBeal. Suddenly, a gaggle of Melrose babes saw their next logical career move: comedy.
Before you knew it, Kristin Davis, who had drowned in the apartment-complex pool as the soap's Brooke, was resurrected as Charlotte, the least cynical (and therefore the most likeable) of the nutty Manhattan bachelorettes on Sex and the City. Not coincidentally, the farce was created by Melrose mastermind Darren Star. And after FOX evicted Melrose last season, two of its female residents moved into ABC sitcoms: Heather Locklear to Spin City and Rena Sofer to the new Oh Grow Up. What's the biggest difference between the genres? "You don't get to make people laugh as much being on a soap opera," says Sofer, "Well, not intentionally, anyway."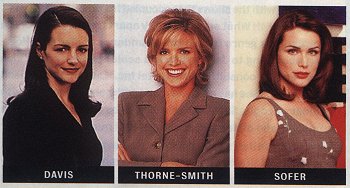 So far, Sofer has provided Oh Grow Up with most of its yuks. Her story line is straight out of a daytime drama -- her husband left her after admitting he was gay -- yet she's managed to wring humor out of such bitter punchlines as "You promised to love, honor, and not go Nancy on me!" "People really had a hard time thinking I'd be able to do comedy," says Sofer, who won an Emmy for ABC's General Hospital before playing psycho ex-cheerleader Eve during Melrose's final season. "I don't mean this in an egotistical way, but what I got on a lot of [sitcom] auditions was 'She's too pretty to play this role.'"

---