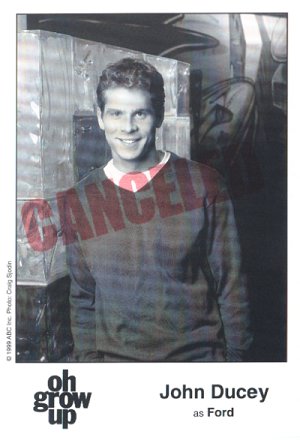 The Official End -- December 21
Late Thursday evening Alan received a call from Stu Bloomberg at ABC. "This is the toughest call I've ever had to make," or some such tripe came out of his mouth. What followed was the official word that ABC had decided to air a full hour of Who Wants to Be a Millionaire? on Tuesdays after all, thus leaving no space for our show. We were, at long last, canceled. No more deadline extensions, no more experimetal timeslot shifts, no more 'head-to-head battles' with the other shows on the network. The plug was finally pulled and Oh Grow Up gasped its last gasp.
Alan left me a message while I was at my softball game so I got a hold of him at home at around 11pm. Tough news. It was hard to hear but when I got Alan's message to call him, I just knew. It was in his voice, it was in the lateness of the hour. It was almost as if they were trying to sneak us off the air. One day after the original deadline and then the night before the new deadline. Could they do nothing right?
I loved playing Ford. He was a great character in a funny show. So I was sad about the show's demise. I think there is ample evidence of that in these pages. But take that love and multiply it by 50 to understand the anguish and betrayal Alan Ball felt at the hands of ABC. He loved doing the show, yes, but he really loved the show. It was that pure. He was in love with every character that made up the fabric of Oh Grow Up -- from Hunter, to Deke, to Buzz Cut Woman, to Mom -- each one was part of this family that Alan had given birth to and then was crazy enough to fall in love with. ABC had led him on, made him promises, built him up, only to leave him at the altar once they met the Millionaire of their dreams. My heart goes out the most to Alan.

---
"ABC PULLS PLUG ON 'IT'S LIKE,' 'GROW UP'
ABC's It's Like, You Know is like, you know, canceled, while the net's frosh laffer Oh Grow Up will never get a chance to move out of infancy. The Alphabet web has officially pulled the plug on both comedies, which are expected to air their final segs within the next few weeks, according to industry sources. Cancellations had been expected in the wake of ABC's move to sked three hours of Who Wants to Be a Millionaire, greatly reducing the number of slots available for sitcoms. However, the network waited before making the final call to kill the shows, finally telling producers of the decision late last week.
Oh Grow Up, from the Greenblatt/Janollari Studio, was created and exec produced by Alan Ball, who Monday was basking in the glory of the Golden Globes success of his feature American Beauty. Greenblatt/Janollari co-topper Bob Greenblatt couldn't help but take note of the timing.
Jumping through hoops
"What surprises me (about ABC's decision) is that we jumped through every hoop they put in front of us, including retaining 100% of our (adults 18-49) lead-in for two weeks," Greenblatt said. "Alan Ball was mistreated in all of this."
DreamWorks Television's It's Like, You Know bowed last spring to generally positive reviews and encouraging ratings, prompting ABC to pick it up for the fall. Show was co-exec produced by former Seinfeld scribe Peter Mehlman.
ABC reps could not be reached for comment Monday night."
--Josef Adalian, Variety

---
That was this morning's article. Splashed onto the pages surrounding it were pictures of the Golden Globe nominees. The movie with the most nominations was Alan's American Beauty, with six. You would think ABC would show a little vision and not cancel the most lauded man in the movie business right now. He's hitting his stride during award season. You would think somebody, anybody at ABC would have noticed that and said, "My God, we have to keep his show on the air no matter how it's doing. It's not about the numbers. When Alan Ball is receiving award after award in the next few months, culminating in a Golden Globe win and at the least an Academy Award nomination, we want HIS TV SHOW ON OUR NETWORK!!" How could no one have the vision and/or the balls to step up and save not only the show but ABC in the process? It blows my mind.
I packed up everything in my dressing room this afternoon. Radio, bulletin board, clock, TV, TV stand, rugs, couch covers, boxes of little items that had accumulated over the last four months. That was sad. I enjoyed going to my dressing room. I felt safe there. I felt happy. I felt like I was contributing to something I was proud of, and that it was also proud of me. I liked being in that room. No more.
What will probably be the final show aired tonight. There is no place on the schedule right now for the last three. Rena was over watching it with a handful of my friends. It's a good show. I mean, it's not Seinfeld, but, honestly, Seinfeld wasn't Seinfeld after 10 episodes either. This show of ours was good and it was getting even better every week.
Sadly enough, we will never see what becomes of these people. Alan's brood, his children, his family, all of the beings that he breathed life into will never actually get that chance to Grow Up.

---