Episode 112 Pre-Shoots
November 22, 1999
The countdown continues to the end of the show. Tomorrow is the last day of work to finish up the initial 113-episode order. After that our fate is uncertain, so we can't even celebrate it as the 'last day' because that would be too pessimistic about the show's future. So we wax occasionally nostalgic and occasionally optimistic and try to keep pushing forward with the show.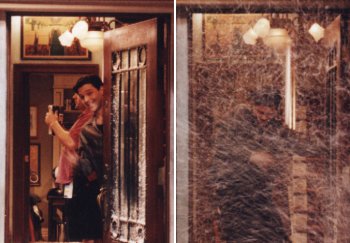 Speaking of which, this one is pretty good. It's a big complicated mess of scenes and so we shot a handful of them today. That will be a big help tomorrow when we're in front of an audience. The highlight of today's scenes was Mr. David Alan Basche battling the elements as a snowstorm hits Brooklyn. The snow machine and wind machine came together to form a fury of flying plastic. It covered the foyer of the set quite thoroughly every time. The lowlight of the day was eating piece after piece of sushi as we shot and re-shot the art gallery scene. It was mayonnaise-heavy California roll and each piece sat progressively less gently into my stomach. We all survived both scenes though.
I also make a trip today up into Alan Ball's office to talk about my scenes. I decided that if I was going to feel better about the character and my role in developing it, then I needed to go to the top dog, the head cheese, as it were. We talked about a couple of scenes in the script and it helped to have a quiet conversation instead of being on the set and trying to throw in different thoughts and getting distracted by the camera moves or the arrival of a puppy on the set. I didn't leave the office on top of the world, but I felt much better having gone to Alan directly and just talked for five minutes. Freed from my issues and insecurities, I felt much less threatened and it made the set a much more pleasant place for me to be.
Go on to Episode Twelve Shoot.
---