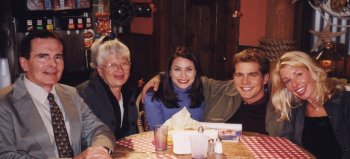 Episode 109 Shoot
October 26, 1999
I began the week with little to do and slowly even that slipped away. It was the final part of the Chloe trilogy and Ford had gone home for the holidays. The result? The show was really good.
Now I would prefer to think that the two facts are unrelated. I did have some funny stuff with Rena. I did my part. The bulk of the show fell onto Hunter and Chloe and they were both really funny and really moving, plus guesting Julia Campbell was fantastic too.

But, really, the big story of the night has to be the swarm of Dickshots that took over Stage 23 tonight. Though a wedding had brought them to this corner of the world, television had brought them together tonight. We had Steve & Lisa (the bride and groom), her sister, her boyfriend, her father, my Aunts Cindy and Mary Anne, Uncles Mike and John, cousins Bridget & Patty, her girlfriend, Diane, a Mom, a Dad, two sisters Anne and Ellen, and topping off the Dickshot smorgasbord, the grand Dame of them all: grandmother Julie 'Mag' Dickshot, making a surprise appearance as the show was about to begin. They had all gathered to see their son/nephew/brother/cousin/grandson be a superstar. Meanwhile, I had the fewest lines to date. Unfortunate timing, but I think they liked the show nonetheless. So I'm fine with it and I think they were too.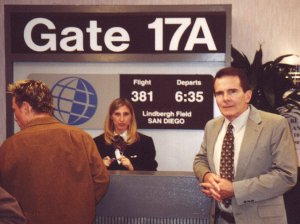 Appearing in the show were three of the aforementioned guests. Jim Ducey made a dramatic cross in the airport scene and strode into the fish restaurant. We find out in the next scene he was going to join his daughter Anne Ducey and his sister-in-law, Cindy Logue (aka Cindy Doodle) for a quick basket of fish-n-chips before catching their plane. Anne was the seasoned veteran, having appeared in 'Marathon Men' only weeks ago so she kept the other two in line. When they finally wrapped the two scenes, nothing had been broken so it was a big success. Duceys and Dickshots, existing together with Oh Grow Up. Oh, what a night.

---