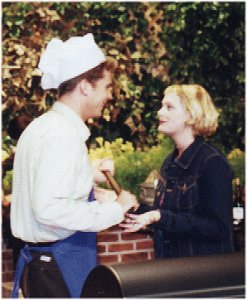 The highlight of the week was yesterday, actually, when we shot the "fireball scene." In the course of cooking dinner, Ford inadvertently sets his chef's hat on fire. Obviously that was something we needed to pre-shoot. The pyro team was brought in to generate the explosion and ignite my outfit. A fire safety gentleman was also on hand, as were three separate fire extinguishers, "just in case."
Many people wondered if I was concerned or scared, but it seemed like I would be very safe. These guys do this for a living, I assume. They're not lawyers by day and fire experts by night or anything. It was like preparing to get on a roller coaster. Yes, it's going to go fast and upside down and stuff, but only once in a great, great while does anyone get hurt on one. So you take the chance, not really concerned about the worst case scenario, though it may be somewhere in the back of your mind.
All of my clothes had been coated with a flame retardant, and when we got to the actual burning, a protective cap was put on my head under the chef's hat. We shot it all pretty much as you see it. There was some dialogue, I bent down, the fireball went off, I stand back up with my hat on fire, and we finish the scene. The only thing you don't see is one of the pyro guys crawling into the scene while I'm bent down and holding a flame to my head so that I'm lit when I stand back up.