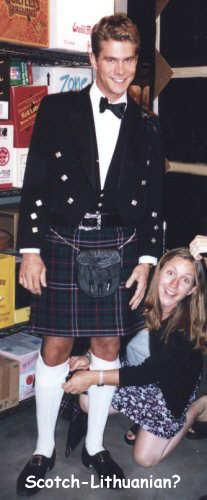 Episode 101 Pre-Shoots
August 16, 1999
We did it. We shot another scene of the television show Oh Grow Up. It has been over three months since that last happened. In between then and now, there has been only craziness -- flying to New York, doing interviews, taping promos for the show, doing photo shoots -- everything under the sun except for making more actual show. Today we got back to work.
The first half of the day was spent doing camera blocking, standard fare for the eve of a tape night. The second half of the day, however, we began to shoot some of the scenes from this episode. For various reasons, certain sets or scenes couldn't accomodate shooting in front of the audience. Those five or six scenes were shot tonight.
The good news is that tomorrow night, those scenes will be out of the way, speeding up the process and keeping the audience more involved with the show. They won't have to sit through any re-takes or pick-ups. They won't have to wait while the actors change costume or the cameras move into position or any such nonsense. They can just sit back and watch as we move the night along.
The bad news, though, is that it didn't feel very real today. We were casually rehearsing all morning, and then without much fanfare we were suddenly putting together a TV show for national television. The rush of having an audience to perform to was still 24 hours away, yet these scenes had to crackle as if there was a house full of eager Oh Grow Up fans watching and laughing along with us.
And so all of the waiting and wondering if the audience was going to find this funny was in vain for this handful of scenes. We won't know if they enjoy our jokes until it is too late. By then the scenes will have been cut and spliced into sitcom history. That's a little disconcerting. We'll know tomorrow night how we did tonight.
And so for that I am excited. And I'm even more excited for the first taping of the season. I still have four or five scenes to do tomorrow so I'll be active. It should be fun.
Go on to Episode One Taping.

---