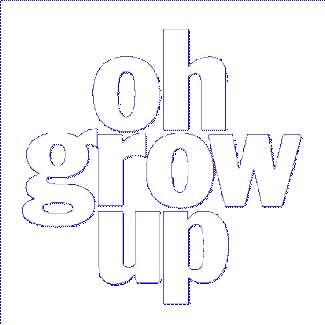 Day One -- April 23
Day One of the secret website journals.
A gag order has been placed on the ducey.com info pipeline that is the secret cache of insider secrets for CBS and NBC and, God forbid, UPN. The details of today's first day are precious gold to the producers of the show and so no write-up will appear on the web until the creation of Oh Grow Up is well behind us. So whatever you may read herewithin, keep it to yourself. (And that includes the word 'herewithin.') If you happen to work for a rival network or production company, then I'll have to ask you to turn away. What follows is too precious for your eyes.
It was funny!
OK, you can all look back now. Day One was the network table-read and it's an exciting, nerve-wracking time. The promise of a ten-year adventure lies ahead. The low success rate of pilots lurks all around. Meanwhile, million-dollar decisions are being made every day. Who knows what changes or corrections or mistakes are going to alter the future of the pilot and the show? I guess that's what makes it so exciting and so awful at the same time.
The reading itself was a hit. Much like the table reading a couple of weeks ago, there was sharp writing and solid performances. The ABC folks seemed pleased. I feel like I'm at a point where I can't really tell right now. We've been auditioning with it and table reading it so much that I am anxious to get up and start doing it.
One nice revision to the script since the last reading is that my character, Ford, has become a little more involved in his roommates' lives. I had the impression, after the last reading, that the show was really about these two old buddies and that Ford was kind of off to the side. There had been efforts made since then to bring Ford more into the inner circle. I hope that trend continues over the course of the week.
And that's pretty much it from the front lines today. I wish I had more to make the secret seem a little juicier. We finished the table reading, the cast got physicals (blood pressure is 108 over 64), and we went home.
Please do not tell CBS my blood pressure.
Go on to Day 2
---