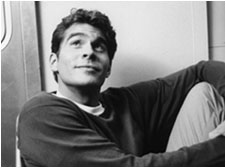 The Ducey Chronicles
The Ducey Chronicles tell the true story of one man's struggle to make a career in Hollywood.
They begin with John Ducey's arrival in L.A. in late 1991, detail the different meetings, auditions, and jobs in Los Angeles, and include booking and appearing regularly on Oh Grow Up.
To enter these pages, you need a username and password. You may tell them I sent you by using "guest" as your username and "ducey" as your password.
Trying to get noticed...

| | | |
| --- | --- | --- |
| Showcases | Workshops | Mailings |

Trying to get work...

| | | |
| --- | --- | --- |
| Auditions | Meetings | Interviews |

Trying to stay busy...

| | | |
| --- | --- | --- |
| Extra Work | Class | Readings |