Inspired SCC clubs Ithaca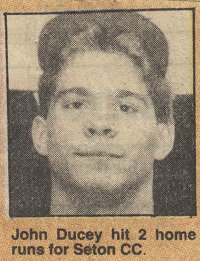 By TOM BORRELLI
Staff Writer, Press and Sun-Bulletin
There was only one surprising element in Seton Catholic Central's display of power hitting, slick fielding and sharp pitching during yesterday's 10-4 baseball win at MacArthur Park's Conlon Field.
The surprise was that it came against Ithaca.
Seton Catholic Central (11-7) used two homers and five runs batted in by third baseman John Ducey, a near-flawless show in the field and sophomore Ronnie Smith's solid six-hitter to defeat Ithaca (11-5) in the Southern Tier Athletic Conference semifinals. "I told the kids that Ithaca wasn't showing them any respect," said Seton CC coach Jim Purtell, whose team won the STAC title when it upset Union-Endicott in 1984. "They were saving a pitcher. I told them they should go out and knock the stuffing out of them because we weren't being shown any respect."
Based on past performances, it's easy to understand why Ithaca coach Richard Armstrong chose not to start Rob Wilson, his ace pitcher. Seton CC hadn't scored a run against the Little Red during the past three seasons. Kevin DiGiacomo, yesterday's starting pitcher, tossed a no-hitter against the Saints on May 1, a 4-0 regular-season victory at Ithaca. Seton CC had four runs and three hits before DiGiacomo recorded his first out yesterday. "Coach told us to go up and expect the fastball," Ducey said. "That's what we saw the first time against him. But we're not the same team now. We've been hitting the ball a lot better."
And Ducey speaks from experience. Ducey, who set a school season record with seven homers in 1986, was homerless this season -- until yesterday. With the Saints ahead, 1-0, and two on with none out in the top of the first, Ducey creamed a fastball from DiGiacomo over a pair of chain-link fences in left field. The towering blast went about 375 feet and Ithaca left fielder Todd Goodman never moved a muscle in pursuit of the ball. Ducey's second homer came with one out and one on in the second off reliever Erik Wiiki. Ducey hit another fastball, like a bullet, over the fence in straightaway center. It went about 365 feet.
While Ducey stole the show offensively, Smith threw his usual steady game for the Saints. He gave up a two-run homer in the bottom of the first to Ithaca's Tim Kiely, cutting the Seton CC advantage to 4-2. "Smitty was very upset because he gave up two hits in that inning on 1-2 pitches," Purtell said. "But he's such a competitive kid, I felt pretty good once we had the lead." Ducey's second homer gave Smith an 8-2 lead after 1 1/2 innings. Smith had only one troublesome inning the rest of the way. He struck out leadoff hitter Chris Sidle, who was caught looking with the bases loaded and a run already home in the sixth with Seton CC ahead, 9-4.
Smith, a right-hander, walked four and fanned eight in raising his record to 7-2 and setting a school record for pitching wins in a season. The Saints, who average 7.5 stolen bases per game, were almost up to snuff with six. SCC committed just one error on the heels of a five-error performance in Monday's 5-3 loss to Susquehanna Valley. "Yesterday we had a skull session and I think it paid off," Purtell said. "We played smart baseball like we usually do. And that's usually winning baseball."

---